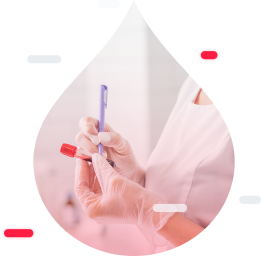 What is Bloodlab?
Personalized and detailed interpretation of your laboratory test results.
Our mission is to support patients and doctors in the process of interpreting the results of laboratory tests.
Who created the Bloodlab system?
The system was created by medical specialists with many years of experience in the largest medical centers in Poland.
Algorithms that analyze patient data are based on a gigantic medical database, where the knowledge of many doctors, their clinical experience, and international literature and publications are embedded.
What does the Bloodlab system enable?
The system facilitates access to specialist medical knowledge.
It is, of course, the doctors who deal with the diagnostic process. Our goal is to provide a system that will facilitate and support this process. We strongly believe that in the future, patients should be at the heart of the healthcare sector.
See how it works
Personalized algorithmic and automatic interpretation of test results in a few simple steps
You got your test results, you have abnormalities and you don't know what to do next?
The BloodLab system consists of thousands of algorithms that analyze your results
Attach a .pdf file, a photo or enter your test results manualy
Receive a detailed interpretation of your test results
What is our mission?
Our mission is to develop the latest technologies to support the patient's diagnostic process
01.
Explanation of the causes of abnormalities based on the test results and the wider clinical picture
02.
Planning the further diagnostic process and diagnosing the causes of irregularities
03.
Support in making a proper diagnosis or excluding a potential disease with possible recommendations on monitoring
The Blodlab system is the application of innovative technologies in diagnostics, which is based on: (i) medical data of over 3 million patients, (ii) over 100 algorithms, (iii) involvement of over 20 specialist doctors, (iv) involvement of over 10 technological and organizational people, and concluding 3 years of work of the entire team.